Menne & Vivante Ice Cream
Flavorsome Ice Cream is a feelling, a synonym of pleasure, a refreshing moment throughout your day. We know how to make this moment count. Our Menne & Vivante ice creams have refreshing taste and delicate flavors.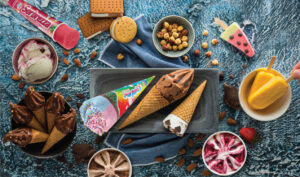 Folie & EVGA Snacks
Butter and bliss! Our fluffy, flaky, tasty croissants and pies have the perfect analogy of dough and stuffing. Try our traditional recipe with a bite of an EVGA croissant or pie and a more modern one: the Folie variety of choices. For a more crispy option we recently introduced our Folie Wafers with great success.
Private Label
Ice Cream & Pastries
Want to increase the quality of your company, offering the best to your consumers? A wide range of private-label goods are available to you through EMFI industries. We offer a great variety of pastries and ice cream flavors.